Road Trippin
Limited Time Offer: Save 25% at Checkout with Coupon Code: ROADTRIP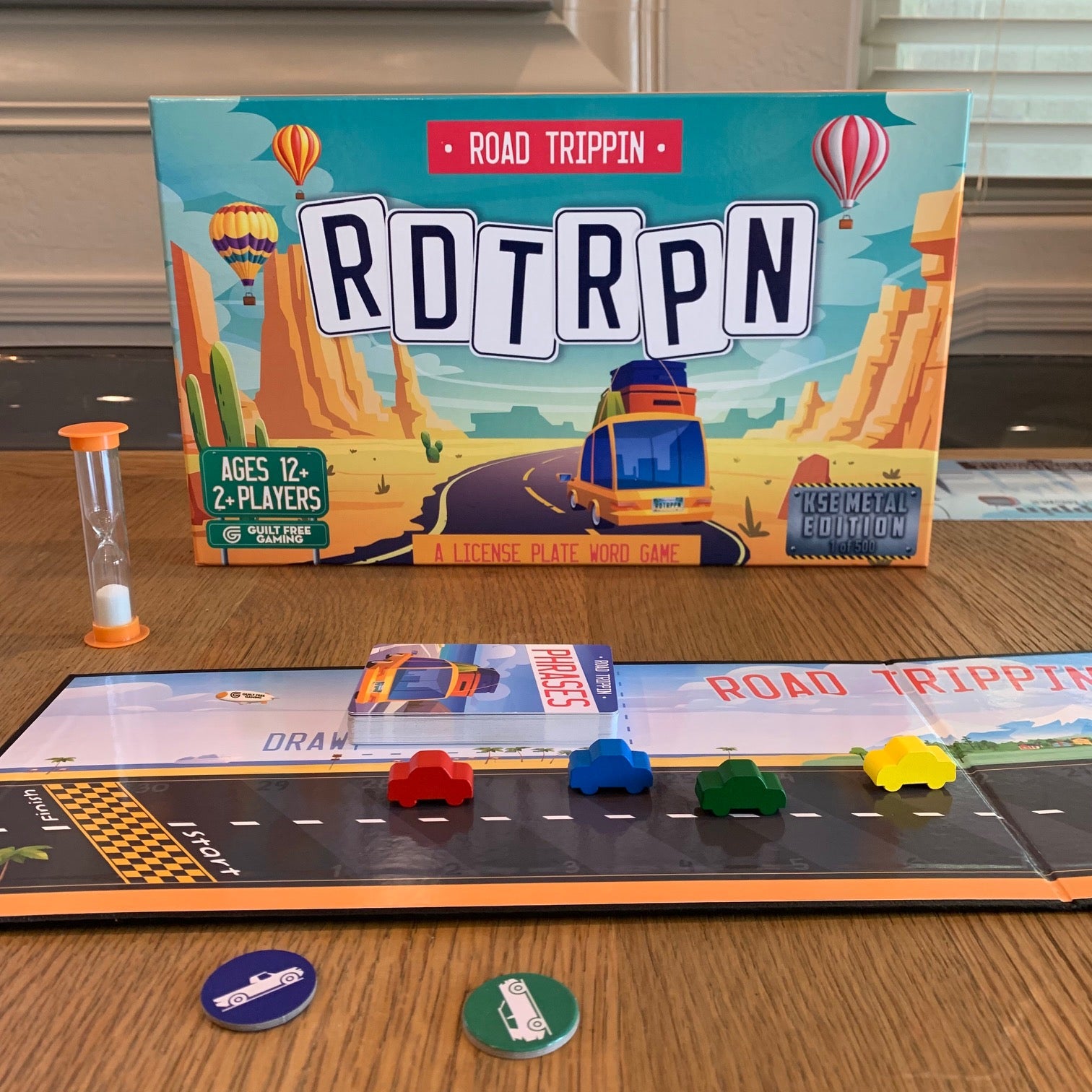 get ready for a word game adventure
This party game is guaranteed to be a hit at your next engagement!
Create vanity license plates from a secret word and see if your team can guess it.
For 2 to 8+ Players
Play a game in as little as 20 minutes.
Show off your skills by using numbers and less letters to score bonus points!
A Kickstarter Success - Road Trippin was launched thanks to our supporters.
How to Play
step 1 - Grab a phrase card

Choose one of 300+ phrases and get ready to make a license plate.

step 2 - Share Your plate

Show off the plate you just made and see if your team can guess it.

Step 3 - Score Points and Move Your Car

Your team has 30 seconds to guess your secret phrase. If they do, you score points. If they fail, then the other team(s) have a chance to steal.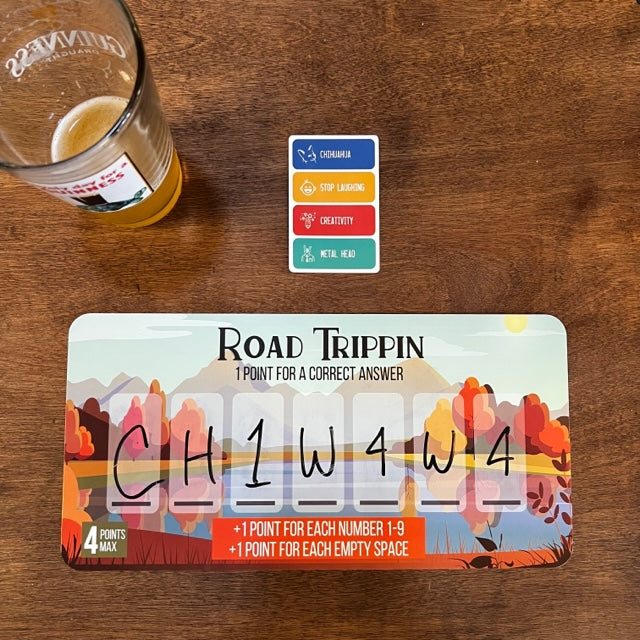 endless entertainment
"This quickly became my families favorite game night game. Every time the game ends, someone always shouts "Let's do one more!". It always amazes me how difficult it is to get max points!

We have played it at least 6 times and it always feels like a new game. Everyone from 16-65 Loved it! I highly recommend this game =)"

-Mellissa M.
What People Are Saying About Road Trippin
"This is a seriously fantastic game! Our family loves it."

"This is a game that everyone already knows how to play. Put it on the table and enjoy!"

"My family starts every game night with this game!"

"Love guessing plates! Sometimes we just stop keeping score."

"Great game! Need to get the expansion!"

"I've officially played this game too much. I now see messages in license plates that have none..."

"Love the points system in this game. It encourages creativity and makes for some great moments."
FAQ
Find the most frequently asked questions below.
Yes there is! Checkout the After Dark expansion on this page for hundreds of new phrases that the DMV would not approve of.
- 75 Cards with 300 Phrases
- 4 Real Metal License Plates
- Game Board & Pieces
- 30 Second Sand Timer
- Instructions
We have three different game modes to choose from. Free-for-all, Teams, and Challenge Mode. Games will last anywhere from 30 minutes to 1 hour depending on your driving experience.
The game ends when a team drives their team car across the finish line.
Road Trippin can be played with as few as 2 players. It can easily accommodate any large group by splitting them into teams.
At the beginning of the game simply choose a color and play that color for the rest of the round. If you would rather let people choose the phrase on each card, then play that way. Just enjoy it the best you can.